Scythe Saga Universe
Welcome to the official Scythe Saga Universe wiki! Here you will find information about all of the lore that ties together the concept albums, compilations, and games released by Scythe Saga Records. (Official site)
Scythe Saga Records
Scythe Saga Records is the first ever record label universe. Each album, compilation, and game released are tied directly to the lore of the Scythian Solar System. This album features artists that produce synthwave and darksynth music, as well as prog rock, metal, psytrance, and soundtrack influenced music. For a full list of our alumni, check out this list of prog rock, electronic, and synthwave artists that have submitted music to one (or more) of our compilations.
Scythe Dev Team
Scythe Dev Team is a group of full-stack developers focused on creating immersive and niche games set within the Scythe Saga Universe.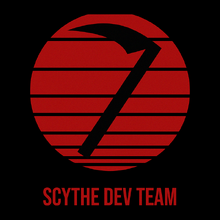 The team consists of:
Kaleb Alfadda - Programming / 2D Design / Writing
Blake Reible - 3D Modeling / Level Design
Jon Reilly - Story Writing / Composition / 2D Design / Video Editing
Victor Malm - 3D Modeling / 2D Design
Community content is available under
CC-BY-SA
unless otherwise noted.